High Blood Pressure: Natural Approaches
High blood pressure or primary hypertension is often called the silent killer. You can have high blood pressure without any symptoms. Even without symptoms, high blood pressure causes damage throughout the body and increases risks for heart attack and stroke. High blood pressure is very common with estimates that 40% of individuals over the age of 25 have high blood pressure (O-Shea 2017).
Medications can be an effective strategy for lowering blood pressure. However, they often come with undesirable side effects including: fatigue, dizziness and for some medications, cough and impotence (Epocrates 2020). Of people prescribed medication for blood pressure, just over 50% either stop taking the medication or don't take it consistently (Tajeu 2019). Considering the life saving benefits of keeping blood pressure low, this is highly concerning.
There are researched natural medicine options for lowering blood pressure:
Diet
Exercise
Weight loss
Magnesium and Potassium
Herbal supplements
Diet
Primary hypertension has links with blood sugar (Jackson 2015). Diets and other strategies that help control blood sugar also often benefit blood pressure. The DASH diet was developed a number of years back and includes eating vegetables, fruits, whole grains, beans, nuts, seafood and meat. The DASH diet limits red meat, salt, sugar and added fat. On average, the diet can decrease blood pressure by 11 points and 5 points for the top and bottom blood pressure numbers respectively (Sacks 1999).
Alcohol can also affect blood pressure. If you drink more than 2 drinks a day as a man or 1 drink a day as a woman and have high blood pressure, reducing your alcohol consumption will likely help (Pareek 2017).
Exercise and Weight Loss
Exercise and weight loss both help decrease blood pressure. Interestingly, isometric resistance training appears most effective for lowering blood pressure (Cornelissen 2013). Isometric exercises are exercises where you contract the muscle without motion. A recent analysis showed just 8 minutes of isometric exercises 3x per week decreased risk of heart attack by 13% and stroke by 22% (Smart 2019).
Weight loss also helps reducing blood pressure. 1 kg (about 2.2 pounds) of weight loss lowers blood pressure by approximately one point in overweight individuals (Neter 2003). The study concluded that weight loss is an important part of decreasing hypertension.
Magnesium and Potassium
The essential minerals magnesium and potassium both have benefits for lowering blood pressure. Supplemental potassium, found in significant quantities in many vegetables, not just bananas, lowers blood pressure around 6.5 and 4.2 points for the top and bottom blood pressure numbers. It works best in people that consume a lot of salt (Iqbal 2019). Magnesium supplementation lowers blood pressure around 9.5 and 5.6 points (Iqbal 2019).
When used properly, magnesium and potassium are typically safe. However, you can get too much. It's best to work with your doctor when supplementing with either mineral to verify dosing and contraindications.
Herbal Supplements
Garlic
Garlic has heart health benefits and immune stimulating properties. In a review of the literature, garlic has been shown to lower blood pressure in people with hypertension by 8.7 and 6.1 points for top and bottom blood pressure numbers (Ried 2016). There's also evidence that garlic can help lower cholesterol and decrease your risk of getting colds and flus (Josling 2001).
Hibiscus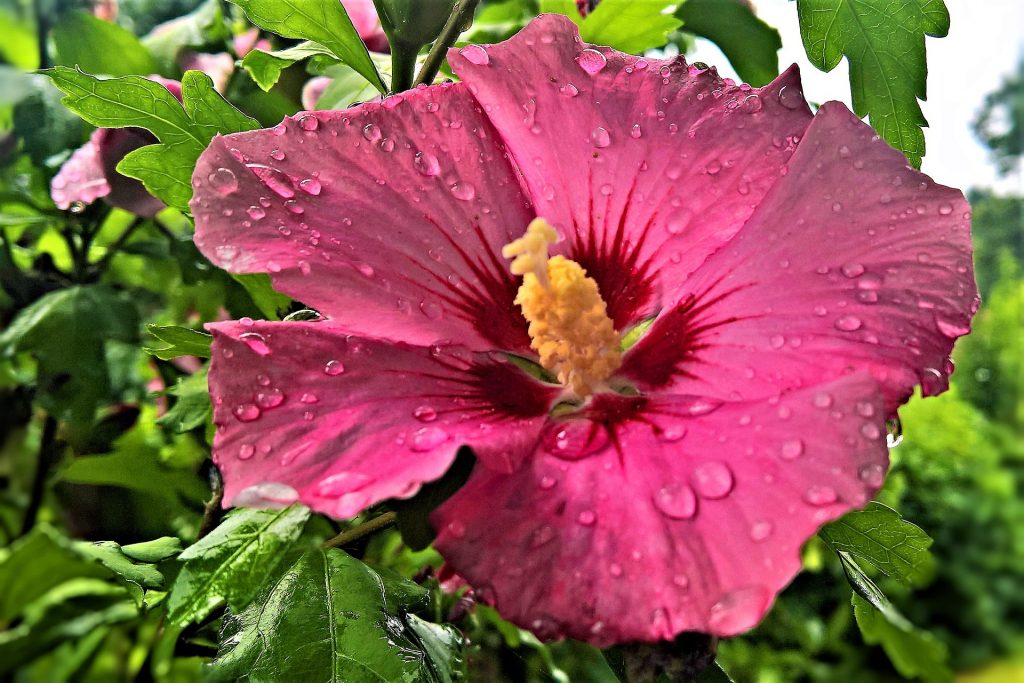 Tea made from hibiscus petals is very rich in polyphenols, compounds that give hibiscus its deep red color. These compounds are likely a large part of the medicinal benefits of hibiscus. Research on hibiscus for blood pressure is impressive. In one study, hibiscus tea outperformed 10 mg of lisinopril, a standard blood pressure medication (Nwachukwu 2015). Blood pressure was lowered by about 12 points for both top and bottom numbers.
Additional studies support the use of hibiscus for blood pressure (Seck 2017). They also compared hibiscus to hydrochlorothiazide, another standard blood pressure drug and hibiscus worked better with fewer side effects (Nwachukwu 2015). An earlier study also showed efficacy in diabetics lowering blood pressure significantly (Mozaffari-Khosravi 2013).
Black Seed (Nigella Sativa)
Black seed, sometimes also called black cumin, is a revered spice from the Middle East. Recent research has also started to suggest benefits from black seed for helping with blood pressure. Often, unrefined black seed oil is used, although some studies use seed extract or ground seeds as well.
A non-randomized trial used black seed for hypertension in diabetics and showed an almost 10 point and 2.5 point drop in top and bottom blood pressure numbers (Badar 2017). Another study in healthy volunteers showed a 10 point drop in both blood pressure numbers with black seed oil (Huseini 2013).
A more recent study in an elderly population showed a 14.4 and 3.9 point drop in blood pressure. However, the results weren't significant since the placebo group also had a significant drop in blood pressure (Rizka 2018).
Conclusion
Other natural therapies for high blood pressure exist, although I wanted to focus on therapies with human studies that showed significant benefits. If you're interested in exploring natural therapies for reducing your own blood pressure, you may want to find a doctor knowledgeable in natural medicine. If you live in the Coachella Valley, I'd be happy to work with you!
Join our weekly newsletter for best in natural medicine research!