Latex Allergy and Dermatitis: A Common Cause of Skin Symptoms and Irritation
Natural rubber latex is a product secreted from the rubber tree. It is collected by cutting into the bark of the tree and letting the "sap" run into a basin. Natural rubber has extremely useful characteristics, being stretchy, waterproof, and resilient. As such, natural rubber has been used in everything from road tires, hoses, waterproof clothing, fabrics requiring elastic properties, floor mats, grips, adhesives and shoe soles. 
Unfortunately, while extremely useful, latex also contains proteins that are allergenic. In addition, chemicals added to change or improve the properties of rubber can often act as irritants (UpToDate 2020). Upon repeated exposure to natural rubber, people develop increasingly worsening immune responses. Professionals that use latex gloves show a higher frequency of latex allergies, including healthcare workers, cleaning and janitorial service providers, textile workers and others (Raulf 2020). 
Around 1 in 25 individuals have a latex allergy in the general population (Wu 2016). Allergic responses to latex can include local skin reactions from itching, redness and rash to full life-threatening anaphylactic reactions. The severity of reactions can escalate with repeated exposures. 
Sources of Latex Exposure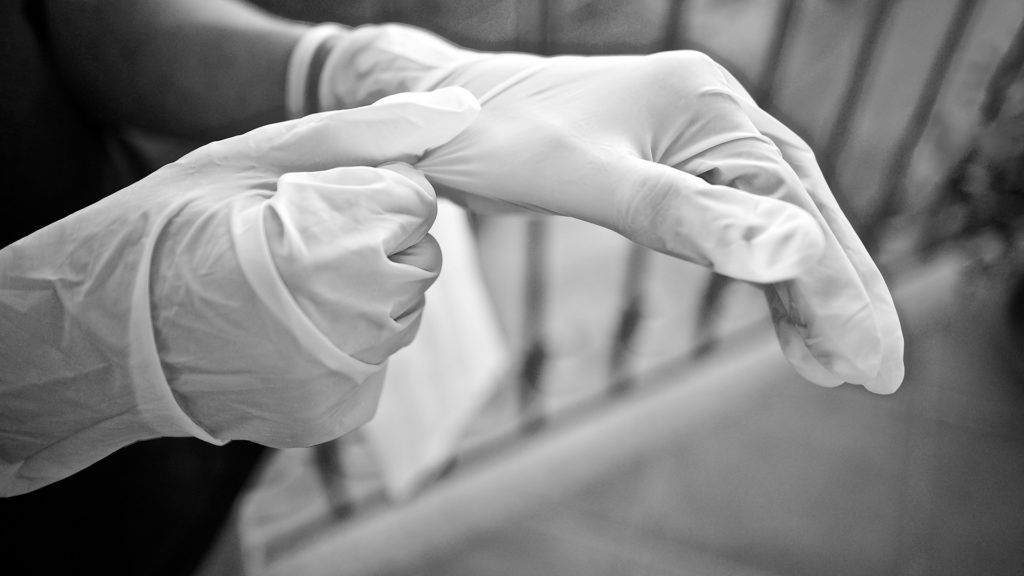 Unexplained skin rashes and irritation are commonly encountered in clinical practice. Identifying the cause of these reactions can sometimes be difficult. Reactions can be immediate, but can also be delayed. 
Common sources of latex and stretch fibers with chemical additives that can be problematic include:
Socks (even socks labelled as 100% cotton)
Shoes
Rubber gloves
Underwear
Bras
Waist bands
Arm and leg cuffs or hems
Stretch fabrics
Latex condoms
Other exposures can include:
Rubber grips and other non-slip surfaces
Rubberbands
Balloons
Hoses
Glues and adhesives
Bandages and bandaids
Crutches
Blood pressure cuffs
Unfortunately, it's becoming harder and harder to find clothing made from 100% natural fabrics or cotton. However, if you're noticing itching, burning or other signs of irritation after wearing certain clothing items, it's worth changing to versions made with cotton and seeing if that helps.
Having worked in medicine for years, I've developed a sensitivity to latex and have reactions to most socks and some garment hems. Finding clothing that doesn't irritate my own skin isn't always easy. 
Treatment
The standard approach to treatment for latex allergy is avoidance. While not always convenient, it can provide relief. Other approaches for desensitization have been explored in the research with some success, although some techniques carry significant risk.
Three desensitization procedures have shown benefits in the literature where patients are exposed to increasing amounts of latex protein. Injections under the skin, sublingual drops under the tongue and topical skin exposure have all been used. Injections have mostly been abandoned due to higher rates of severe reactions. Sublingual treatment appears safer, but still can present with occasional severe responses and needs to be monitored medically (Nucera 2020).
Probably the most interesting approach is topical desensitization. While the process was slow and tedious, taking over a year, there were no reports of any serious adverse reactions. Patients simply started with a 10 second glove exposure and very slowly increased the exposure time up to an hour over the course of a year. A trial in 9 patients showed 7 eliminated their latex reactions (Vozza 2005).
Allergy Elimination Techniques
It's also at least worth mentioning specific allergy elimination protocols often encountered through alternative and integrative medicine providers. These techniques go by a slew of different acronyms, including NAET, JMT, NMT, NET and others with NAET being one of the most common techniques encountered for allergy relief. The technique uses muscle testing to identify allergens. The process involves trying to identify a muscle weakness when an individual is close to a suspected allergen. While interesting, in the current published literature, muscle testing often gives unreliable results (Niggeman 2004). After identifying the allergen, an acupuncture or acupressure treatment is administered which typically requires 24 hours of avoidance of the substance to complete the therapy. While case studies have been published showing results, more evidence is needed to validate the overall efficacy of the techniques (Nambudripad 2014, Terwee 2008).
Personally, I worked with a chiropractor to treat environmental allergies who was using NAET and had very positive results, reducing or eliminating a number of allergies. However, after moving out of state, I pursued additional treatments with four separate providers, all with no or minimal results. Unfortunately, to this day, I have not been able to get the technique to eliminate my own latex sensitivity. While I'm not opposed to these techniques, since I've had personal improvement and witnessed other patients find relief, they are very practitioner dependent. In addition, if no results are seen after a few sessions, it may not be worth pursuing further, especially as costs can quickly escalate with additional sessions. In any individual with life-threatening allergies, extreme caution and medical management is required with any technique that is used for treatment.     
Conclusion
Latex allergies are a common cause of skin reactions. Knowing sources of latex exposure and minimizing them can often bring relief. Direct treatment is challenging to pursue, since most standard forms of desensitization are not widely available. 
Join our weekly newsletter for the best in natural and integrative medicine research!